THE 68th STERIJINO POZORJE FESTIVAL 2023
Selector's Report
26. MAJ-3. JUN 2023.
HUMANITY – ASCENDING AND DESCENDING
During the past year, the Selector of the 68th Sterijino Pozorje Festival saw fifty-seven plays based on the plays by playwrights who write in Serbian and other languages that are in use in Serbia, and thirty-two of those are original adaptations of domestic plays, dramatizations of prose and poetic pieces, or author's projects, which suggests an intensified interest in a domestic drama that can be seen for some years now.
The scope of individual dramatic approaches, formal and stylistic characteristics, research paths, and changes in dramatic writing is wide, but so are the differences in quality regarding certain new dramaturge strategies and techniques of playwriting. Our stages feature plays with a traditional dialogue structure, but we are witnessing a rise in the number of monologue plays dominated by narration and poetic discourse…
MILIVOJE MLAĐENOVIĆ
Born in Bijeljina (Bosnia and Herzegovina) in 1959. He is simultaneously active as a theatre professional (he was the director of the National Theatre Sombor for twelve years, the director of the Serbian National Theatre Novi Sad for seven years, the director of the Sterijino Pozorje for three years, and the art consultant in the National Theatre "Sterija" in Vršac), a selector and jury member of the most respected theatre festivals, an educator (Associate Professor at the Faculty of Education in Sombor, teaching several courses, including Stage Art, Introduction to Theatre Art, etc.), a scholar in the field of literature (obtained his Ph.D. from the Faculty of Philology in Belgrade), and as a theatrologist.
His plays were staged in the Šabac City Theatre (Rabelais/Virtue/Sin, directed by Vladimir Lazić), the National Theatre Sombor (Maestro, a biographical play about the painter Milan Konjović, directed by Milan Nešković, and Mrazović – A Didactic Anti-Drama, directed by himself), the Youth Theatre Novi Sad (When I Was Swarthy, directed by Stevan Bodroža), and the City Theatre "Semberija" Bijeljina (A Comedy with a Developmental Disability, directed by Dušan Tuzlančić)…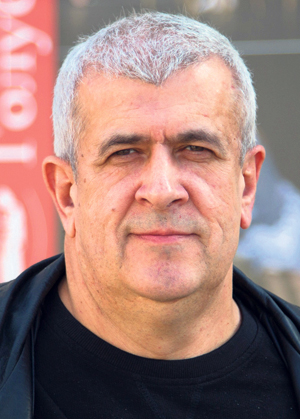 " All the world's a stage, and all
the men and women merely players."
William Shakespeare
66. Sterjino Pozorje Festival